A Message from Father Shanley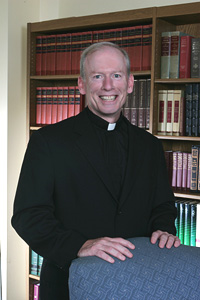 The goal of a Providence College liberal education is to help our students know and embrace their role in God's loving plan and to pursue it with excellence. Transformed by wisdom and enabled by grace, our students will live lives of virtue, purpose, and meaning that will help transform society.
As a premier Catholic liberal arts institution, Providence College will continue to embody the rich intellectual and spiritual tradition unique to the Dominican Order, one that spans eight centuries. Since the Order's inception, the Dominicans have valued and promoted study and the life of the mind as ways of understanding the created order, coming to know the Creator, and thus reflecting the divine image.
The motto of the Dominican Order and of Providence College is Veritas, truth, and the College's deepest mission is to teach its students to love and live in truth. In a world in which education has become something of a commodity, Providence College remains committed to the proposition that the goal of a college education is to grow into the image and likeness of God through the contemplation of truth.
Truth refers to the particular truth that is being pursued, the cumulative unity of all knowledge, and the ultimate Truth that sets us free. Therein lies the freedom that traditionally has been the goal of a liberal arts education. It is a characteristic feature of the Dominican tradition that truth is viewed as a unified whole in which faith and reason are compatible, complementary, and point to a single truth.
We believe that the passion for truth is a God-given gift and the most powerful agent of personal and social transformation. Providence College exists for the sake of inculcating this passion for truth in every member of its community.
As the only college in the United States founded and administered by the Dominican Friars, Providence College has remained true to its mission and distinctive competencies – a Catholic and Dominican education, teaching excellence in the liberal arts, and values-centered character formation.
This strategic plan has been developed by the leadership of the College to fashion a vision for its future that is aligned closely with the College's mission and core values. We believe that completing the initiatives described in this plan will enable us to take Providence College from good to great and will enable us to provide our students with a life-changing educational experience.

Rev. Brian J. Shanley, O.P.
President, Providence College